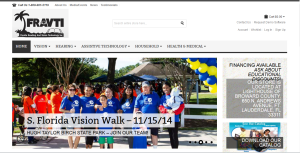 Florida Reading and Vision Technologies came to us with some issues to fix on their new ecommerce enabled Joomla! based web site. Their shopping cart and checkout system were not working and product images were being skewed among several other issues. They reported that the web development company that got them setup had not delivered what was promised so they came to us for help.
Initial analysis of their Joomla! installation revealed that they were using Joomla! 1.5 which was outdated and no longer being supported by the Joomla! project. Using open source software that is not being maintained can be a serious security issue and increases your risk of being hacked . Not only was their software outdated and at risk before they even started using it, it wasn't the best choice for managing thousands of products as Florida Reading and Vision wanted to do in the near future.
With that being the case, they decided to migrate from their Joomla installation to Magento, a very powerful open source ecommerce solution.
The migration involved developing a custom Magento extension to efficiently import product data from a spreadsheet, integrating Magento with WordPress, developing an extension to streamline information architecture management, selecting and configuring a responsive Magento theme that works across desktop, tablet and mobile devices and migrating their product data from Joomla! to Magento.